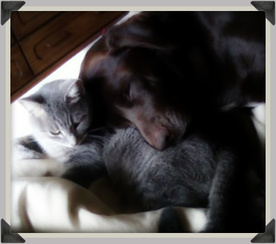 Staycation Pet Care
Providing quality cage free dog care, and in home care for other animals since 2009
---
Carly & Jasper
Carly loves the big dogs
and that suits our Jasper just fine


Staycation pet care is a pet sitting service which provides cage free day care and overnights for doggies or in your home care for any pets you may have.

We are proud to serve
Southern Minnesota and Northern Iowa area.
Open 7 days a week by appointment only.
Please call or email us for pricing.
---
We are a pet sitting service, providing tender loving care for your companions in their own comfortable surroundings or they can stay with us while you are away.
Most dogs do not like to be taken out of their homes to stay in a kennel and there are very few alternatives for other pets such as cats, birds and other companions you may have. Until now.
Fully insured
&
Bonded
For your peace of mind!
Over 10 Years experience






Our Mission
To make our clients feel at home and as happy as possible in their handlers' absence and to give you peace of mind in knowing your pets are cared for and loved while with us or in their own surroundings.
Please like us on our Facebook page